Agenda
13 - 14 May 2020
10:00 - 13:00
CIDyoung retreat 2020
The CIDyoung retreat committee is working on an exciting programme for Wednesday 13th May 2020 (all day) and the morning of Thursday 14th May 2020 (until 13h including lunch). Also see this invitation.
A more detailed programme will follow as it becomes available.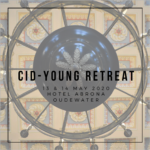 Sign up before 4 January 2020
CID PhDs and postdocs can sign up for the CIDyoung retreat via the following link: https://forms.gle/RRLWBeab7L6xbfmS7
Please RSVP before 4 January.
CIDyoung retreat committee
Yentl de Kloe (WP1)
Michelle Achterberg (WP2)
Sofieke Kevenaar (WP3)
Jeroen Mulder (WP4)