Uncategorized
CID cohorts and COVID-19 data collection
The COVID-19 pandemic will have long-lasting consequences for children, families and society. Data and evidence from longitudinal cohort studies, such as the CID cohorts, will be vital to help understand the immediate as well as long-term impact for years to come. Several CID cohorts are already collecting and analysing COVID-19 related data.
L-CID
With an additional wave of questionnaires L-CID collected data to examine the effects of the COVID-19 pandemic on the participating families in the 'Samen Uniek' twin study. L-CID uses a study design with annual measures and therefore these additional measures could inform us on longitudinal changes due to the COVID-19 pandemic. We aim to draw comparisons in parenting, perceived stress and social behaviour between a Pre-COVID-19 time period and a period during the pandemic. We approached all parents and children in the middle childhood cohort (twins aged 11-14) and all parents from our early childhood cohort (twins aged 8-10). In just 2 weeks, 410 responses were collected: 197 primary parents (50% of all participating primary parents), 63 other parents (16%) and 150 children (36%) (70 girls, 80 boys). In depth analyses are in progress, but we are able to share some first insights from the children data. We included several (semi-) open questions in which parents and children could indicate which aspects of the COVID-19 pandemic they experienced in the past two weeks. In the figure below, the most chosen aspects of the pandemic are depicted. The questionnaires we included in our study can be found on [OSF/Github].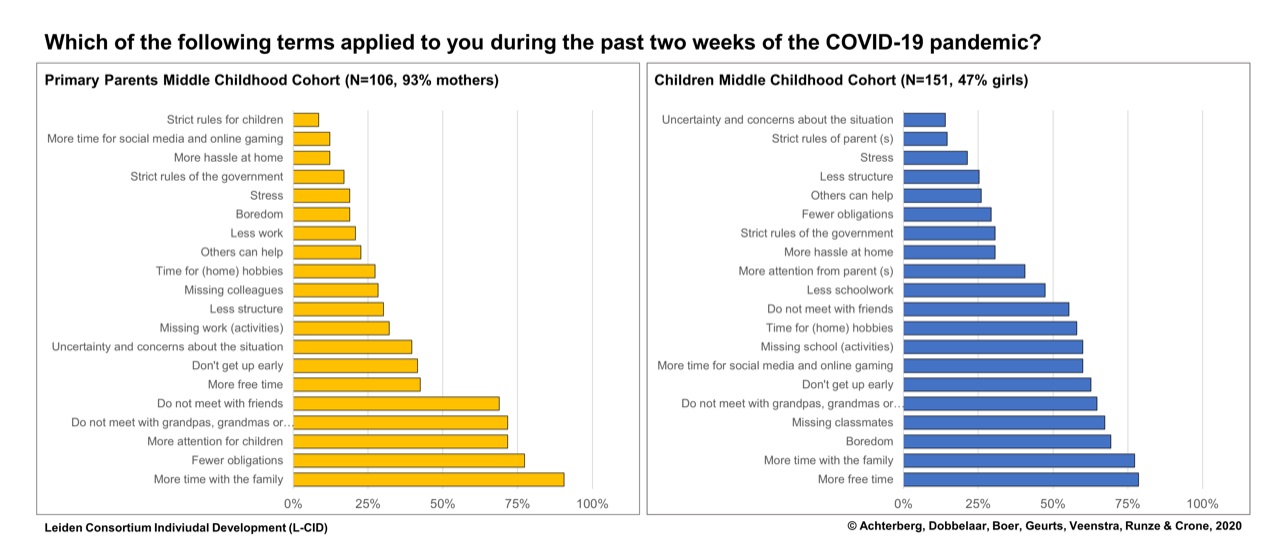 NTR
The Netherlands Twin Register (NTR) sent a survey to more than 60.000 twin-family members to obtain insight into the role of genetic and environmental risk factors for susceptibility to COVID-19 and severity of complaints after infection. The survey also charts the effects of the pandemic in terms of psychosocial strain and health behaviour change. Parents also report on their child by completing the short form Child Behavior Checklist (CBCL) and two wellbeing questions. This COVID-19 survey benefits from the powerful twin design in combination with longitudinal information of environmental risk factors available on NTR participants.
RADAR
RADAR is conducting a brief additional measurement wave of questionnaire data to assess the experiences of over 1200 RADAR participants during the COVID-19 pandemic. By administering a brief questionnaire that assesses current COVID-19 specific experiences, behaviours and concerns, we can make a huge contribution to the understanding of how the COVID-19 crisis affects individuals' development and relationships. So far, the RADAR sample participated in at least ten measurement waves during the last 15-20 years, and a next follow-up wave is planned for the fall of 2020. This allows to examine changes in their well-being and functioning compared to before and will increase our understanding of which individuals are most at risk for mental or relational problems during and after a crisis as the current.
YOUth
The COVID-19 pandemic is expected to substantially impact families and child development. For this reason, the YOUth team recently invited all 3,200 participating families to complete an extra questionnaire. This includes 2000 families from the 'Baby & Child' cohort (0 to 4 years old children) and 1200 families from the 'Child & Adolescent' cohort (8 to 12 years old youth). Depending on the duration of the pandemic, YOUth will measure the impact of covid-19 at three or four time points (see flowchart). At each time point YOUth collects information about adult psychopathology through the Brief Symptom Inventory (BSI) as well as COVID-19 exposure and consequences for stress, emotions, lifestyle, social contact, exercise, (social) media and substance use through the NIMH CRISIS questionnaire (http://www.crisissurvey.org). In the 'Baby & Child' cohort both questionnaires are completen by the mother. For the 'Child & Adolescent' cohort the parent who spends the most time with the child is asked to complete three questionnaires: BSI, CRISIS self-report and CRISIS parent-report on child.

Generation R
In the upcoming months Generation R will track how young people are handling the COVID-19 crisis. The crisis led to changes and uncertainties in most people's daily lives, including young people. Education, sport and hobby facilities were closed and we have to maintain physical distance from others. Besides the lack of routine and social contacts, young people may worry if the temporary school closure will effect their school results. Generation R will map how young people from ages 14 to 18 years old are dealing with the COVID-19 crisis and the effect on their well-being.
More information
YOUth: contact Coosje Veldkamp
L-CID: contact Lara Wierenga