News
Eye-tracking in developmental research – the good, the bad and the ugly
It's a wrap for Roy Hessels (Postdoc Utrecht University Experimental Psychology and Developmental Psychology). His paper was the first accepted to the CID special issue in Developmental Cognitive Neuroscience (DCN). Roy and colleague Ignace Hooge describe why eye-tracking is an excellent tool to study early development (the good). But how invalid conclusions may be drawn due to low data quality (the bad). Based on YOUth cohort data they outline how to tackle (the ugly) data quality problems.
When we are watching a film, navigating traffic, or trying to determine each other's emotional expression, we rely heavily on our vision. No wonder that gaze direction and eye movements are linked to a host of perceptual and cognitive processes. Eye-tracking has become a popular method to gain insight into early (neuro)cognitive development. Eye-tracking studies contributed to progress on the early developmental trajectories of autism as well as models on how infants learn about the world. However, the methodological challenges of conducting eye-tracking research have not been advertised as widely.
This paper was easy to write because it is what I wanted to know when I started doing developmental eye-tracking research
Reaching developmental researchers
After years of experience conducting research from a methodological, developmental and experimental perspective, Roy was in a unique position to address this knowledge gap. During his own PhD he had to dig deep into eye-tracking methodology before he could examine eye-movement behaviour of infants and children. Ever since he wants to ensure that the methodological challenges of conducting eye-tracking research with children, and potential solutions, are available to all researchers. When Roy heard about the CID special issue in DCN, he knew this was the opportunity to reach the right audience.
Answers based on large-scale YOUth eye-tracking data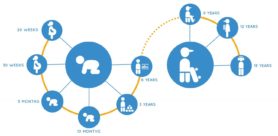 For the YOUth cohort Roy is responsible for the eye-tracking operation. This is no small feat with multiple eye-tracking measurements across different ages in a large number of participants (projected 3000 participants in each of the two cohorts, 0-6 years and 9-15 years).
Using 500 eye-tracking data sets for each age group (5 months, 10 months, 9 years) as well as 31 data sets for 3 years old, he focused on three questions:
How can an eye-tracking setup be designed to optimize eye-tracking data quality in developmental eye-tracking research?
How can eye-tracking data quality be optimized when the researcher isn't the primary person carrying out the recordings, but many research assistants fulfil this function?
What ranges of eye-tracking data quality are to be expected in developmental eye-tracking research, and how can eye-tracking data analysis be matched to the data-quality range?
Six pieces of advice
Roy's advice to tackle data quality problems and help ensure valid conclusions about child development can be drawn?
All aspects of an eye-tracking setup are important, this includes at least a combination of eye tracker, seating and table.
Train your eye-tracking operator well, this may include feedback based on the data quality obtained.
Systematically monitor eye-tracking data quality so you can continuously improve protocols and training.
Verify analysis tools are suitable for the quality of the eye-tracking data.
Report measures for eye-tracking data quality (precision, accuracy and data loss), and link these measures to the analysis tools used.
When interpreting results, consider whether eye-tracking data quality may have influenced your findings.
More information
Hessels R.S. & Hooge I.T.C. (2019) Eye tracking in developmental cognitive neuroscience – the good, the bad and the ugly Developmental cognitive neuroscience doi: 10.1016/j.dcn.2019.100710
This paper is part of a special issue in Developmental cognitive neuroscience about the Consortium on Individual Development. For an overview of all papers go to here.
YOUth is part of the Utrecht University research theme Dynamics of Youth and part of UMC Utrecht Brain Center