Agenda
Save the date: farewell symposium Frank Verhulst
On Friday Ma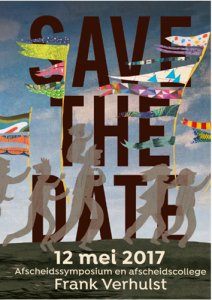 y 12, 2017 we celebrate the distinguished career of Prof. Frank Verhulst as head of the Department of Child and Adolescent psychiatry/psychology of the Erasmus MC, Rotterdam.
For decades, Frank Verhulst was a dedicated clinician, but above all he has been very influential in child and adolescent psychiatry research. Both nationally and internationally, he is renowned for his large ongoing epidemiological studies with many new insights into the normal and abnormal development of children.
Well known speakers from abroad and our country will pay tribute to child and adolescent psychiatry research and focus on the opportunities for the future. During this symposium Frank Verhulst will give his farewell speech.