Uncategorized
New CID faces

Hekmat Alrouh, VU, junior researcher, WP3
Hi all, my name is Hekmat Alrouh. I'm a Syrian medical doctor with background in public health and health behavior. In February I started my research project at the department of Biological Psychology at the Vrije Universiteit Amsterdam (PI: Dorret Boomsma) as part of WP3, where I will be studying the genetic nurturing effects of socioeconomic status (SES) on three health outcomes in children (BMI, smoking, and self-rated health). This NWO funded study will quantify the associations between parental socioeconomic status and health behaviors in a design that controls for genetic confounding, making it possible to demonstrate genuine family environmental influences. Knowing the processes underlying the relationship between parental SES and offspring healthy behavior has important implications for the promotion of health in children.
I look forward to working on the project and meeting all the members of the CID network. I am new in the Netherlands, and very passionate about food, so hit me up (h.alrouh@vu.nl) if you have restaurant recommendations or want to learn some delicious Syrian and Mediterranean recipes!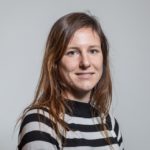 Milou Sep, UMCU, PhD, WP4
Hello! I am Milou Sep and since 2015 I have been working as a PhD-student in the lab of Marian Joëls (WP4) and Elbert Geuze (Brain Research & Innovation Centre; Ministry of Defence). I combine human and animal studies to investigate whether stressful memories that are linked to environmental information can predict the vulnerability to post-traumatic stress disorder (PTSD) at an individual level.
I am looking forward to connect with the expertise on individual differences within the CID consortium!